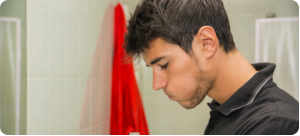 With all the summer vacations and camping trips, it's likely someone in your family is going to forget his or her toothbrush.  Hopefully you'll be close enough to a store that you can grab a new one.  But if not, here are some suggestions from your orthodontist in Duchesne, UT for cleaning your teeth without one:
1.  Swish with water.  This can at least get rid of the major particles hanging around.
2.  Use a napkin, paper towel, washcloth, or any coarse material you have at hand to scrub your teeth.
3.  If you don't have a cloth to scrub them with, you can use what many cultures around the world still use today: a stick.  Break the stick in half and fray the end by gently chewing it, then carefully scrub the film off your teeth.
4.  Before toothpaste, people mixed baking soda with a bit of water and scrubbed their teeth with it.  You can use your finger or a cloth.  This can also help whiten teeth.
5.  Chew sugar-free gum.  It can be a great alternative to flossing in a pinch.
6.  Chew mint or parsley leaves.  They will give you that fresh-breath feeling.
7.  If you're really brave, you can put the leftover charcoal from your fire to use.  Grind it up into a fine powder, rub it on your teeth and rinse.  It can actually remove stains from teeth and absorb bad odors.
Be sure to discuss any questions you have about caring for your braces and orthodontics with your Duchesne orthodontist, Dr. Dansie of Dansie Orthodontics.
This information is not meant as medical advice. It is provided solely for education. Our Duchesne, Utah orthodontics office would be pleased to discuss your unique circumstances and needs as they relate to these topics.
---
ABOUT DANSIE ORTHODONTICS
Specializing In Oral Care
Orthodontist, Dr. Chase Dansie and his orthodontics team offers the most advanced braces for children, teens and adults, including clear braces, metal braces, and Invisalign. With two convenient orthodontic offices located in Duchesne, UT and Herriman, UT, there is sure to be an office located near you. Call us now for a free consultation for braces at any of our two orthodontic offices in Utah!
Duchesne Orthodontics Office: 435.315.0095
Herriman Orthodontics Office:  801.758.8888