Award-Winning Orthodontist in Herriman, Duchesne, West Jordan & South Jordan, UT
See what our patients have to say about their experiences at our offices!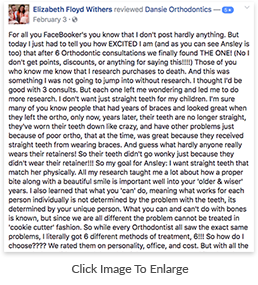 "…I just had to tell you how EXCITED I am that after 6 Orthodontic consultations, we finally found THE ONE!…"


We're happy to report that Mackenzie got her braces off. She really liked Dr Chase Dansie… and for a young gal with Asperger's to say that she likes someone who works in her mouth is really something. He's very friendly, energetic, full of positive energy.


Ronald H.
Dr. Dansie is personable, professional, and knowledgeable. His staff is wonderful and kind. They made my daughter's getting braces feel like a celebration with balloons, bubbles from above, and a Creamie treat. His office is gorgeous–so modern and clean! He followed up by phone and email to make sure she was doing okay. Then when we had an emergency, he met us at his office after hours and took care of it! The whole experience has been above and beyond our expectations.


Michelle B.
Dansie Orthodontics goes above and beyond to make their patience feel comfortable and accommodated. My son was nervous about getting his braces, but they quickly put him at ease and even had a celebration for him on the way out. The staff is knowledgable and friendly, and as my son put it, "Their office looks like a nice regular building on the outside, but it's so futuristic on the inside!" It's a beautiful office and my kids look forward to their visits there. Thanks for making something scary into a great experience!


Elsje D.
I am so impressed with Dr. Dansie and his staff. They were beyond helpful and friendly. The office is extremely professional! We had an orthodontic emergency and when our regular orthodontist couldn't see us, Dr. Dansie was more than willing to fit us in and address all our concerns. He took the time to explain everything he was doing and was extremely good with my son. He went above and beyond. We will definitely be seeing Dr. Dansie from now on for all of our orthodontic care.


Kate C.
Very friendly and attentive. Made my son's first day with braces a celebration. High tech equipment and detailed explanations made me feel comfortable with what to expect.


Tom P.
Dansie Orthodontics is awesome. Their staff is great. The office is clean and amazing. Dr. Dansie is super helpful and kind.


Janeil J.
A great orthodontist office, extremely nice comfortable and modern feel. Very nice staff that actually care about you . Couldn't ask for more with my braces . Also bubble surprises await you .


Kayden D.
Dansie Orthodontics has a highly trained and friendly staff! They are very caring and aware of their patients' needs, Dr. Dansie takes very good care of those with whom he works. I would recommend him for anyone needing orthodontic work done!


Greg P.
Dr. Dansie and his staff are top notch and super friendly. I especially love the superior quality of service, care, and comfort they provide for their patients.


Annel A.
Dr Dansie and his amazing Team have thought of everything! I just took my son, who is extremely sensitive to new situations, to the Herriman office and it was crazy fun! Seriously! We were given a tour of their beautiful building, and while the staff took xrays of my son, I sat in the incredible massage chair and enjoyed a Swedish massage! Then, they gave my son a gift and let him have a massage while Dr. Dansie answered all my questions and we brainstormed the best game plan for my son. They also have him a creamy and let him play the Xbox as I wrapped things up. As we left, they gave my son the "Bubble exit" with bubbles coming out of a high wall and floating everywhere in the office. Amazing service. Beautiful office. Incredible professional. We have 2 more visits set up to help my son become comfortable with the office. Thank you so much for making this such a positive experience!!


Rachael H.
The office looks great! The staff is friendly, and very welcoming. Dr. Dansie is so personable.


Michael D.
Loving this office!!! Dr. Dansie and Gabbie are so great. I've never in my life heard of an orthodontist showering their patients in bubbles to celebrate such a big day. Couldn't be more impressed….


Angie K.
Great customer service. Friendly environment, kid friendly atmosphere. Great knowledge and communication with patients.


Tyler L.
Dansie Orthodontics is incredible. I have been able to work for Dr. Dansie for a while now and I have personally witnessed his genuine care for his clients, kids, parents, and employees. He remembers all sorts of small details about the people and kids he associates with. He uses the best technology and equipment options in his work. Chase Dansie has created an unique experience including events/gifts/notes/bubbles so that each parent & child has the best experience. If you are in search of an orthodontist, I would highly recommend him.


Whitney A.
*The reviews on this page are from actual patients of Dansie Orthodontics. Individual results may vary. Reviews are not claimed to represent results for everyone.