INVISALIGN® IN HERRIMAN, UT
Discover a Discreet Smile-Changing Experience
Invisalign is a revolutionary leap in orthodontic technology that lets you straighten your teeth without your friends and family noticing! Dr. Chase Dansie is an experienced provider of Invisalign in Herriman, UT, and has helped numerous patients improve the health and appearance of their smiles with this extraordinary alternative to braces. This convenient, comfortable treatment straightens your teeth using a series of clear aligners and provides a level of discretion that exceeds even clear braces. Read more about how Invisalign works below.
The Benefits of Invisalign
Invisalign treatment at Dansie Orthodontics provides numerous benefits to make straightening your teeth as easy as smiling, including:
Discretion. With Invisalign's clear aligners, you can enjoy a nearly invisible way to straighten your teeth.
Comfort. The series of clear removable aligners can straighten your teeth without wires or brackets. This lets you avoid the chafing and soreness that typically occurs with braces.
Convenience. Invisalign's aligners are removable! That means you can eat and drink anything you want during treatment without worrying about damaging your appliance.
Improved Health. Invisalign's smooth plastic aligners don't have the many nooks and crannies of traditional braces, where bacteria love to gather. In addition, you can remove your aligners to brush and floss normally, which makes it easier to maintain good oral hygiene.
If you're interested in finding out if Invisalign is right for you, click the button below to take our Invisalign quiz!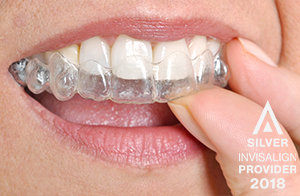 A Clear Alternative To Braces!
The first step is to visit our office to determine if Invisalign is the right choice for you or your child. After designing a precise treatment plan, we use advanced computer technology to translate this plan into a sequence of finely formed clear aligners — as few as 5 or as many as 48. Each clear aligner is worn for 5 to 14 days and is only taken out to eat, brush and floss. As you replace each aligner with the next, your teeth will begin to move gradually, week by week, until the final alignment of a perfect smile is attained. Then you will be beaming your best smile ever!
Learn More About Invisalign in Herriman, UT, Today!
To learn more about whether Invisalign in Herriman, UT, is right for you, schedule your complimentary consultation for braces, which includes a complete exam with digital x-rays and comprehensive, educational consultation with our 5-star-rated orthodontic team. Call 801.448.0126 or CLICK HERE to request a free appointment today!