Clear Braces in Herriman, UT
Watch Your Smile Light Up a Room With Our Award-Winning Care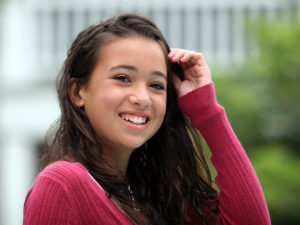 Clear ceramic braces are a type of braces popular in patients looking for more discreet orthodontics. While they are usually larger than metal braces, they are less visible than traditional metal ones, and their color typically matches the tooth, making them a less noticeable orthodontic treatment. You can even choose tooth-colored brackets to blend in with your teeth. If you are thinking about clear braces, Dr. Dansie is a 5-star rated provider of clear braces in Herriman, UT.
What Are Clear Braces?
Ceramic braces function similarly to traditional metal braces. However, they are made of a discreet clear ceramic composite that does not stain upon eating or drinking your favorite foods. In addition, these clear ceramic braces help align teeth in a shorter period of time than plastic braces. With regular visits and proper care, ceramic braces can help you straighten your teeth and obtain that beautiful smile in less time and fewer visits.
Why Our Patients Choose Clear Braces
Adults and some teens choose ceramic braces because they "blend in" with your natural teeth and are far less noticeable than metal braces. They are also ideal for patients who speak in front of crowds or spend a lot of time in front of the camera. Their comfortable, sculptured design and attractive translucent appearance help provide the self-confidence that comes from wearing braces that look as good as they perform.

At Dansie Orthodontics, we believe everyone has the right to live their life with a smile they truly love, without obstructing the smile they currently have. Clear braces help you achieve the smile of your dreams more discreetly than you ever imagined.
Learn More About Clear Braces in Herriman, UT, Today!
To find out more about how clear braces in Herriman, UT, can keep you smiling throughout your treatment, schedule your complimentary consultation for braces, which includes a complete exam with digital x-rays and comprehensive, educational consultation with our 5-star-rated orthodontic team. Call 801.448.0126 or CLICK HERE to request a free appointment today!