Transforming Smiles With Braces In Herriman, Duchesne, South Jordan, Bluffdale, Riverton & West Jordan, Utah
Dr. Chase Dansie and his team at Dansie Orthodontics offer the most advanced braces for children, teen and adults, including Invisalign, metal braces and clear ceramic braces.
Come experience Dansie Orthodontics. You will see for yourself that we offer innovative, effective braces and orthodontics to patients in and around Herriman, Duchesne, South Jordan, Bluffdale, Riverton, and West Jordan, Utah – and we do it with a smile! Call today for a complimentary consultation for braces at either one of our conveniently located orthodontic offices in Duchesne or Herriman, Utah!
Learn more about each of the types of braces and orthodontics available.
Invisalign
Invisalign® uses a series of invisible, removable, and comfortable aligners to create your best smile ever!
Because your trays are virtually invisible, it's easier to conceal the fact that you are straightening your teeth! Also, the aligners are completely removable, so you can eat and drink what you want, when you want, during the entire duration of your treatment. As an added bonus, brushing and flossing are super easy – you just brush and floss as you normally would! The aligners are comfortable and don't cause wear on your gums like their traditional counterparts!
Invisalign Teen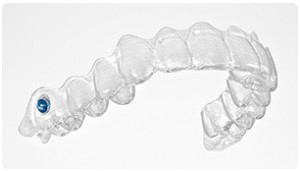 Invisalign Teen offers the same benefits as the Invisalign treatment system, but with the added benefit of an easy-to-follow tracking system! Invisalign Teen includes a blue dot on the outside of the trays that becomes clear when it is time to move on to the next tray in the series. Simply wear your retainers for 20-22 hours per day and wait for the blue dot to fade to clear! It's that easy!
Additionally, you will be able to eat the foods you love, and no one will even know you are straightening your teeth!
Metal Braces
Traditional metal braces are the most common type of braces used in orthodontics, as they are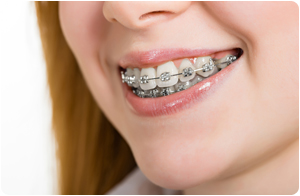 the "tried-and-true" method to straightening teeth – regardless of the severity of the case. They have progressed a long way in the past decade, however, to ensure better comfort and are a great way to customize your smile using different colored rubber bands. In fact, you can customize these at each visit. Metal braces are made of high-grade stainless steel, and utilize brackets, small rubber bands, and archwires to straighten your teeth during the course of your treatment process.
Clear Braces
Ceramic braces are clear braces that are very strong and do not stain. They offer a clear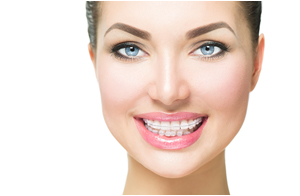 alternative to traditional metal braces. Adults and some teens choose ceramic braces because they "blend in" with your natural teeth and are far less noticeable than metal braces. We believe everyone has the right to live their life with a smile they truly love, without obstructing the smile they currently have. Clear braces help you achieve the smile of your dreams more discreetly than you ever imagined.