Meet Our Award-Winning Herriman, Duchesne, West Jordan & South Jordan, UT, Orthodontist
Top-Rated Care from An Expert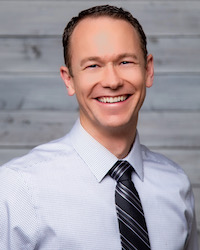 Dr. Dansie is originally from Herriman (before anyone knew where Herriman was!). He loves working at Dansie Orthodontics because it gives him the chance to build relationships with people over the course of their treatment that he otherwise wouldn't have met. One of the values at the office that resonates with him is "we face challenges with optimism." He has systematically applied this principle to his life to turn hard experiences into great sources of strength and progress!
As an adolescent, Dr. Chase Dansie spent a lot of time in the orthodontic chair. He knows firsthand the difference quality care and a confident smile can make. Fueled by his childhood experiences, Dr. Dansie developed a passion for setting a smile straight.
Initially, Dr. Dansie was attracted to restorative dentistry, as he saw the niche as an excellent opportunity to impact patients' lives for the better. However, in time, he found that many of the concerns that he was addressing in restorative dentistry might have been prevented with early and adult orthodontic treatment. Thus, the inspiration for Dansie Orthodontics was born.
Dr. Dansie is devoted to delivering the latest in technological advancements with the absolute best in patient care. His goal is for every patient to leave more comfortable, happy, and confident than when they first arrived!
Come and experience Dansie Orthodontics and our award-winning orthodontist. You will see for yourself that we offer innovative, effective braces and orthodontics to patients in and around Herriman, Jordan Landing, Duchesne, South Jordan, Riverton, Bluffdale, and West Jordan, Utah.