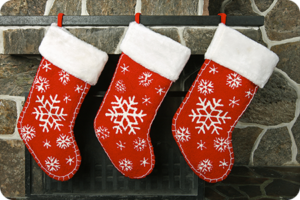 It's that festive time of year again – does Santa need a little help? Our South Jordan, UT, orthodontist is here with some great stocking stuffer suggestions! Keep reading for some gift ideas for that special someone who wears braces.
Put a Smile on Your Loved One's Face with Help from Our South Jordan, UT, Orthodontist
If you usually rely on candy and other sweets to fill all the stockings that you've hung with care, this year you might be wondering what to do for your child with braces. You already know you can't include sticky caramels or chewy nougats. Those types of candy can quickly wreak havoc on your holiday by damaging metal brackets – or worse, even pulling the brackets right off your child's teeth.
This year, look no further to find the perfect stocking stuffers for everyone on your list! Our orthodontist in South Jordan, UT, recommends these "orthodontist-approved" stocking stuffers:
1) Some Sweets Are Still Safe!
Our South Jordan, UT, orthodontist suggests buying plain chocolate, such as a Hershey's bar. Soft chocolate tends to dissolve in your mouth fairly quickly, and it won't harm an orthodontic appliance like braces. You can also include tasty chocolate goodies by adding a variety of delicious hot chocolate mixes to your child's stocking.
2) Practical Gifts Are Good Stocking Stuffers, Too
Make it as easy as possible for your child to maintain good dental hygiene while undergoing orthodontic treatment, advises our helpful orthodontist in South Jordan. We know how difficult it is to properly floss with braces, so your child might appreciate a pack of floss threaders. Using floss threaders before brushing is a great way to effectively remove food particles trapped under the wires of your child's braces.
3) Be Creative!
Stockings don't have to be stuffed with candy to be festive! Items such as scratch-off lottery tickets hidden in the toe of a stocking can be a source of fun and anticipation to add to your family's holiday merriment. While you're at it, get one for yourself, too!
4) Choose Entertaining Stocking Stuffers
Movie tickets and bookstore gift cards come in handy during school vacation breaks, says our South Jordan, UT, orthodontist. Another good idea for a stocking is to include a gift card. After all, who doesn't love a free meal or a shopping extravaganza?
Our South Jordan, UT, Orthodontist Wishes You and Yours a Happy, Healthy Holiday Season!
The information provided in this article is not meant to be medical advice and is for educational purposes only. If you would like to learn more about your child's braces or other topics related to orthodontics, feel free to contact Dansie Orthodontics, with a convenient orthodontics office near South Jordan, UT, by clicking here or by calling 801.758.8888.