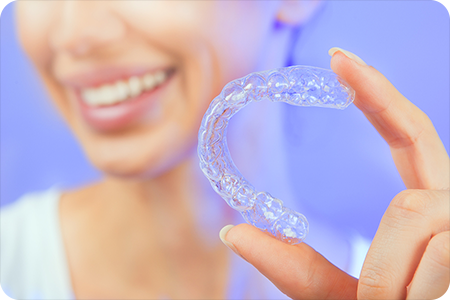 Beyond the halls of middle school, braces may seem like a daunting undertaking, but our Riverton UT orthodontist does not want you to fret. Today, more and more adults are having their teeth properly aligned, and the options to do so are no longer limited to traditional braces alone. A perfect smile may take time no matter which approach you choose, but the benefits will last a lifetime.
Common Braces Styles From Our Riverton UT Orthodontist
Traditional Braces
Traditional braces are made of stainless-steel wires which are affixed to metal brackets on the teeth with plastic ligatures. The ligatures come in all colors of the rainbow—a hallmark that many tend to associate with the pre-teen days—but a variety of more neutral colors are also available. Traditional braces call for the patient to return to our Riverton orthodontist about every six weeks to have wires tightened, corrective shifts, and ligature removal and replacement. Cleaning and brushing can require some diligence, especially as your gums and cheeks adjust to the new addition.
Invisalign
Many orthodontists say Invisalign is one of their most asked-about products for teeth alignment, and it's easy to understand why. Invisalign works to alter the alignment of teeth using clear, plastic trays molded to your bite. That's right—a metal-free solution. Our Riverton orthodontist will set up a consultation to examine the particular needs and measurements of your smile and a series of trays will be produced to gradually alter your smile over time as you graduate from tray to tray over 12-18 months.
While Invisalign is metal-free, there will most likely still be initial discomfort as your teeth begin to shift; however, there will not be irritation from brackets or wires breaking. The trays can be removed to eat, so there are no dietary restrictions either. Invisalign is best suited for those with mild to moderate necessary adjustments.
Options Beyond Traditional Braces From Our Riverton UT Orthodontist
Clear Braces
Clear ceramic braces are similar to traditional braces, but rather than the brackets being made of metal, a white or tooth-colored material is used instead. The look is therefore more discreet than metal braces, and may be a great option for those who prefer a less visible look but still need more extensive treatment than a removable option can provide. The ceramic and light ligatures have been known to stain from foods like curry or beverages like black coffee. However, in recent years, technology has continued to advance, and our Riverton orthodontist can offer the most durable, up-to-date options. Additionally, regular adjustments and ligature replacement should mitigate this concern.
The information provided in this article is not meant to be medical advice and is for educational purposes only. If you would like to learn more about this and other topics related to orthodontics, feel free to contact Dansie Orthodontics, with a convenient orthodontic office location near Riverton UT, by clicking here or by calling 801.758.8888.