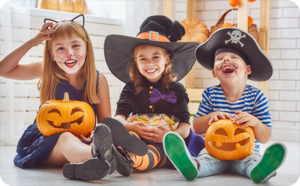 It's officially fall, and our Herriman UT orthodontist knows that while many people are enjoying the changing of the seasons, others are focused on how to keep their family's teeth healthy during the coming holiday. For those with kids in braces, Halloween can be a challenge. School parties and trick-or-treating are fun for children, but they can wreak havoc on braces. This doesn't mean your kids should pass on the good times, however, as there are plenty of ways to celebrate and keep their healthy teeth in check. Our Herriman orthodontist reveals what candy to avoid, and healthy alternatives for this holiday season.
Our Herriman UT Orthodontist Recommends Avoiding These Candies
#1 – Avoid Hard Candies
Hard candies, like suckers, are timeless, and although there are countless variations, none of them are safe for those wearing braces. Their hard, sugary shell can not only damage brackets but can also cause bacteria to grow and lead to tooth decay. Other hard candies our Herriman orthodontist suggests avoiding are:
Toffee
Butterscotch candies
Jolly Ranchers
Jawbreakers
#2 – Avoid Chewy Candies
Our Herriman orthodontist also warns against the harmful effects of chewy candies. Anything sticky and gooey can pull off ties, loosen brackets, and damage wires. To avoid a delay in your child's orthodontic treatment, keep them away from these foods:
Chewing gum
Caramels
Taffy
Licorice
Halloween Candies Approved by Our Herriman UT Orthodontist
#3 – Soft Candies Are Safer
Although there are many foods to avoid while wearing braces, it's still possible to join in on the fun and enjoy Halloween. A little planning ahead is all you need to keep your child's healthy teeth on track. Our Herriman UT orthodontist recommends opting for these sweet treats:
Soft chocolates
Ice Cream
Gelatin
Smoothies
Fruit
Melt-in-your-mouth candies are better options for those wearing braces, because they're less likely to bend wires, break brackets, or get stuck in hard-to-reach places. As always, our Herriman orthodontist stresses the importance of brushing your teeth after every meal, especially when sweet treats have been consumed. Have a safe and happy Halloween!
The information provided in this article is not meant to be medical advice and is for educational purposes only. If you would like to learn more about this and other topics related to orthodontics, feel free to contact Dansie Orthodontics, with a convenient orthodontic office near Herriman UT, by clicking here or by calling 801.758.8888.