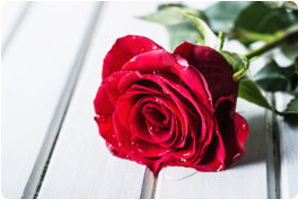 In my family, the traditions of the Navajo people have a special place in our hearts.  My brother Norman and his wife Ethaleen and their children are Navajo.  Norman joined our family when he was 11 and has been with us ever since.  My parents also served as LDS missionaries to the Navajo Nation, which further increased our appreciation for their beautiful culture.  Recently, my mom told my wife Robyn about a special Navajo tradition: sharing the rose, the thorn, and the bud of the day as the family gathers together at night.
The Rose.  I've had the practice over the last several years of focusing on the "wins" of the day.  These are the positive things that have occurred, the things I've accomplished, and the struggles I've overcome.  The Navajo call these "the roses."  Focusing on these roses has been really powerful for me because the things that rest on your mind at the end of the day are what rests in your life.  So if I end the day thinking of the good I've accomplished, I see myself as capable and successful and wake up feeling positive about my ability to meet the day's challenges.
The Thorn.  Let's face it, life is full of thorns.  These are the struggles, challenges, and sadnesses of the day.  And for every rose, there are dozens of thorns.  Many of us get so caught up in a cycle of negative thoughts that we have a hard time acknowledging the roses.  The practice of focusing on only one of thorn instead of 12 or 20 will help us have a better outlook.  And as each person shares a thorn, it can enable a family to encircle that person with love, to problem-solve, and to help shoulder the burden.  Instead of feeling picked on by our circumstances, we are able to see the struggles others are experiencing and focus on their needs instead of just our own.
The Bud.  This was the idea that was most insightful to me.  These are the areas of our life that show promise, that with a bit of nurturing, care, and time could become a rose.  The bud can be something we feel excited for, an interesting idea we had, a possible opportunity that might open up.  The practice of looking for potential roses can help us feel hope for the future or can take our creative genius on an unexpected journey.  Looking for the bud of the day has been this delightful discovery for me as Robyn and I have practiced this tradition with our kids.  Focusing on the buds can fill us with the desire to put in the time, effort, and energy to turn the bud into a rose.
The other night as we took turns sharing about our roses, my two youngest girls, Belle (5) and Mary (2) both enthusiastically announced, "Going to the dentist to get our cavities fixed!"  (There is a reason we're excited that Pediatric Dentist Chuck Odion will begin practicing at our Herriman office soon!)  And when we asked them about their thorns, they wracked their brains and couldn't come up with a single thing.  Robyn and I chuckled, but that speaks volumes for what I would hope for every child and every person–that by practicing this Navajo tradition, we'll see our bushes so full of roses and buds that the thorns will be an afterthought and hardly noticeable at all.  There is definitely power in recognizing the good in our lives, in sharing a struggle, and in finding hope in future.
This information is not meant as medical advice. It is provided solely for education. Our Herriman, Utah orthodontics office would be pleased to discuss your unique circumstances and needs as they relate to these topics.
---
ABOUT DANSIE ORTHODONTICS IN HERRIMAN, UTAH
Specializing In Braces And Invisalign
Herman, UT Orthodontist, Dr. Chase Dansie and his orthodontics team offers the most advanced braces for children, teens and adults, including clear braces, metal braces, Invisalign, and Invisalign Teen. With two convenient orthodontic offices located in Herriman, UT and Duschesne, UT, there is sure to be an office located near you. Call us now for a free consultation for braces at any of our two orthodontic offices in Utah!
Herriman Orthodontics Office:  801.758.8888
Duchesne Orthodontics Office: 435.315.0095