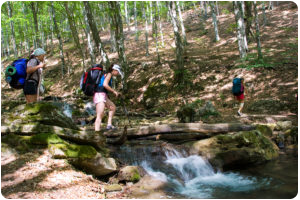 With all this extreme heat, we're all looking for some kind of escape.  If you're looking for something besides the local swimming pool, the mountains can offer a cool retreat.  Here are some nice, family-friendly hikes to help beat the heat.
Silver Lake
Located up Big Cottonwood Canyon near the Brighton Ski Resort, you'll find the temperature a good 20+ degrees cooler than in the valley.  The trail around this lovely lake is easy and stroller-friendly, and the scenery is gorgeous!  If you're looking to extend your hike, take the trailhead to Twin Lakes found on the far side of Silver Lake.  There are benches, picnic tables, and a dock for fishing, and the drive up and back is beautiful.
Cecret Lake
This hike is found up Little Cottonwood Canyon.  This hike is considered "Easy," but it is definitely more challenging than Silver Lake.  It gains a bit in elevation, and the footing can be tricky in some parts, but it is definitely doable for the average kid.  This hike is through beautiful country, often surrounded by wildflowers, and offers a great little lake as a reward for the climb.  The summit doesn't have much shade, but it is still cooler than the blistering heat down home.
Mirror Lake
This hike is about a 2 hour drive from Salt Lake or from Duchesne, but it is worth every minute.  The temperature hovers between 68-72 degrees during the day, and the Mirror Lake Scenic Byway is always a pretty drive.  The hike around the lake is easy, the fishing is excellent, and the view of Bald Mountain is stunning.  If you don't have time to make it a camping trip, Mirror Lake makes an excellent day trip to escape the heat for a picnic lunch.
Payson Canyon Grotto Trail
The whole family will enjoy this lovely little hike.  It is located 7 miles up Payson Canyon, gains little in elevation, and ends in a beautiful waterfall and a pool that you can splash in to cool off on a hot day.  This hike is only 0.3 miles and won't take much longer than 35 minutes, so it won't take much more preparation than looking up the directions on how to get there.
This information is not meant as medical advice. It is provided solely for education. Our Duchesne, Utah orthodontics office would be pleased to discuss your unique circumstances and needs as they relate to these topics.
---
MEET DANSIE ORTHODONTICS
Specializing In Braces And Orthodontics For The Entire Family
Duchesne, UT, orthodontist, Dr. Chase Dansie and his orthodontics team offer the most advanced braces for children, teens and adults, including clear braces, metal braces, and Invisalign. With two convenient orthodontic offices located in Herriman, UT and Duschesne, UT, there is sure to be an office located near you. Call us now for a free consultation for braces at any of our two orthodontic offices in Utah!
Duchesne Orthodontics Office: 435.315.0095
Herriman Orthodontics Office:  801.758.8888