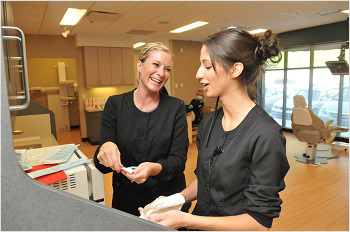 Are you looking for a rewarding position with a fast-growing, high-tech, and fun group of professionals? Dansie Orthodontics is looking for a few good men and women!
Are you the type of person or do you know someone that likes to work hard in a fun environment? Would you like to be mentored by Dr. Dansie and his team, and work with the best patients in the area? Do you have a good understanding of customer service? Would you want to be a part of a fast-growing company and be on the leading edge in your profession?
It will be the opportunity of a lifetime. You will get to learn orthodontics from the ground up, as well as many other life-changing and life-building skills. Plus, you will be working with some of the BEST in our profession.
If this sounds great to you, then the next phase of your career starts right now!
Current openings include:
Customer Delight and Scheduling Coordinators
Administrative Assistants
General Office Positions
Clinical Orthodontic Assistant
Salespeople
We are assembling a world-class team of experts to join us to ensure exceptional care for our growing practices in Herriman and West Jordan.
What to do now? Please call (801) 533-0055 for a pre-recorded message from Dr. Dansie. Follow the instructions on the recording to schedule your interview.
IMPORTANT: The ONLY way to apply is by calling the number (801) 533-0055. Do NOT send your resume electronically. Instead, follow the directions on the pre-recorded message at (801) 533-0055. In order to provide our patients with 100% of our attention during the day, please do NOT call the office or email for questions about career opportunities at Dansie. Instead, please ONLY call (801) 533-0055 and follow the instructions.