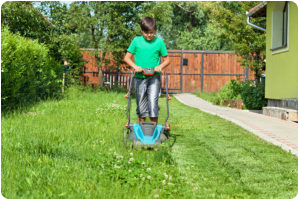 With Summer right around the corner and school almost out, now is the perfect time for teens to plan how they'll they'll use their spare time to earn some extra cash.  Some may be too young for an official job, and others may be so busy with sports, vacations, and camps that they need something flexible that will allow them to make money when it is convenient for them.  Here is a list of potential money-makers, some obvious, some not so obvious:
1.  Yard Work.  This tried-and-true method is a summer staple.  Make a fridge magnet with your contact info, the jobs you're capable of doing, and your prices. Canvas the neighborhood, and watch the jobs roll in.
2.  Babysitting.  This is a great one since so many working parents are looking for someone to watch their kids during the hours their children were previously in school.
3.  Pet-Care.  Not only do people need their dogs walked, they also may need their other animals cared for while they're on vacation.  And who could pass up a mobil dog-washing service?!
4.  Kids-Camp:  Plan a fun activity for neighborhood kids and charge a fee for participating.  You could do a Harry Potter Camp and have a house sorting, make wands and even a potion or two.  Or come up with a easy craft and invite kids over to make it together.  Make an obstacle course and set up a contest with an entry fee.  The sky's the limit!  Make sure you charge enough to cover the cost of materials and the going-rate for child care per hour.  You'll have a fun summer, and so will the children who live near you.
5.  Make-to-Sell:  If you are crafty, try selling your wares.  Make jewelry, wooden signs, or any cool craft you think others will like (See Pinterest for Ideas). If you want to get serious about it, look into getting a booth at your local Art's Festival or Farmer's Market.
6.  Farmer's Market: Speaking of Farmer's Market, you can make some good money selling the produce from your garden and orchard.  Get chickens and sell the eggs.  Learn how to keep a beehive and sell the honey.  Not only will you learn loads from gardening, etc., you can also make some money doing it.
7.  Wash/Detail Cars:  With hectic summer schedules, it can be hard finding time to keep the car clean inside and out.  Practice on your cars at home, put together a bucket of supplies, pass out fliers, and get to work!
8. Cleaning Services:  There is no end to the things that need cleaning.  You could do windows, home exteriors, or even offer interior house cleaning services in homes of people you trust.
Remember, starting a new business can be challenging.  Your best chance for success is to develop a business plan with your parents, to enlist the help of a friend or two (gotta love the buddy-system!), to talk to everyone about the services you offer, and to never give up!
This information is not meant as medical advice. It is provided solely for education. Our Duchesne orthodontics office would be pleased to discuss your unique circumstances and needs as they relate to these topics.
---
MEET DANSIE ORTHODONTICS
Specializing In Braces And Orthodontics For The Entire Family
Duchesne, UT, orthodontist, Dr. Chase Dansie and his orthodontics team offer the most advanced braces for children, teens and adults, including clear braces, metal braces, and Invisalign. With two convenient orthodontic offices located in Herriman, UT and Duschesne, UT, there is sure to be an office located near you. Call us now for a free consultation for braces at any of our two orthodontic offices in Utah!
Duchesne Orthodontics Office: 435.315.0095
Herriman Orthodontics Office:  801.758.8888