Thanks for requesting an appointment! We will be in touch within 48 hours to get you scheduled.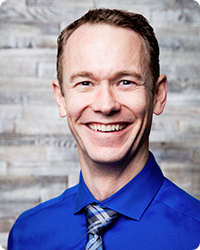 As an adolescent, Dr. Chase Dansie spent a lot of time in the orthodontic chair. He knows first-hand the difference quality care can make, as well as a confident smile. Fueled by his childhood experiences, Dansie developed a passion for setting a smile straight.
Initially, Dr. Dansie was attracted to restorative dentistry. He saw this niche as the greatest opportunity for impacting patients lives for the better. In time, however, he found that much of what he was seeing in restorative dentistry might have been prevented with early and adult orthodontic treatment. Thus, the inspiration for Dansie Orthodontics was born.
To this day, Dr. Dansie remains devoted to partnering the latest in technological advancements with the best in patient care. His goal is for every patient to leave more comfortable and confident than when they first arrived.
Come experience Dansie Orthodontics and our award-winning orthodontist. You will see for yourself that we offer innovative, effective braces and orthodontics to patients in and around Herriman, Duchesne, South Jordan, Riverton, Bluffdale, and West Jordan, Utah.
When you visit our Herriman, Duchesne, South Jordan, Bluffdale, Riverton, and West Jordan, Utah orthodontic offices, you will find that the Dansie Orthodontics Difference makes you feel comfortable, confident about your orthodontic treatment, and certain that we care. Because we do! Our office's success depends upon providing each and every patient with the best possible care and helping them to achieve the most successful possible outcome.
Same Day Appointments & Same Day Braces
At Dansie Orthodontics, our orthodontics team understands that you may be eager to start your journey to a new smile. To help you get started sooner, call right away to set up your Dansie Smile Assessment. Our orthodontics team can typically get you in for an appointment within 24 hours on a weekday, and depending on the option you choose for orthodontic treatment, you could even walk out with braces on the very same day!
At Dansie Orthodontics, we offer the Full-Treatment, 100% Satisfaction Guarantee. Our guarantee covers the full duration of orthodontic treatment, from the time you get your braces on, to the time you see your transformed smile! We only ask you to keep an open-mind as your treatment progresses and a positive attitude. If you begin to feel less than 100% satisfied with the orthodontic treatment you are receiving, we simply ask you to let us know, and we will make it right!
Dansie Orthodontics understands the importance of innovative orthodontic treatment solutions. In order to provide the most effective and efficient orthodontic treatment available, Dr. Dansie keeps up with the latest in modern orthodontic technologies. This includes the office's iCat 3D imaging machine that creates a 3D image of your mouth to ensure that straightening your teeth also improves the alignment of your jaw, the alignment of your bite, and the breadth of your smile. For you, this means straighter teeth, a wider smile, and balanced facial profile to create your best smile ever!
Payment Plans For Braces & Orthodontics
At Dansie Orthodontics, we never want financial reasons hold you back from receiving the treatment that you or your loved one deserves. For that reason, we are proud to offer a wide range of payment plans, some even with 0% interest! We will take the time to maximize your insurance benefits when applicable, and also help you structure a worry-free payment plan when needed. We even offer payment plans starting as low as $138/ month, with $0 down!  We have also recently partnered with OrthoFi, allowing patients the ability to customize a payment plan that works within their budget. You can select your own monthly and down payment amounts, and easily manage your account online.
Dr. Chase Dansie offers the most advanced braces for children, teen and adults, including Invisalign, clear braces and metal braces. Come experience Dansie Orthodontics. You will see for yourself that we offer innovative, effective braces and orthodontics to patients in and around Herriman, Duchesne, South Jordan, Bluffdale, Riverton, and West Jordan, Utah – and we do it with a smile!
In some cases, traditional metal braces are the best option for aligning your teeth and increasing your self-confidence. That's because metal braces are very strong and can withstand most types of treatment. Today's metal braces are smaller, sleeker, and more polished than ever before. With metal braces in Herriman, UT, you can transform your smile and customize their appearance with the colors of your bands, all while improving your dental health.
Clear ceramic braces are a type of braces popular in patients looking for more discreet orthodontics. While they are usually larger than metal braces, they are less visible than traditional metal ones, and their color typically matches the tooth, making them a less noticeable orthodontic treatment. You can even choose tooth-colored brackets to blend in with your teeth, so they are barely noticed. If you are thinking about clear braces, Dr. Dansie is a 5-star rated provider of clear braces in Herriman, UT.
Invisalign is a revolutionary leap in orthodontic technology that lets you straighten your teeth without your friends and family noticing! Dr. Chase Dansie is an experienced provider of Invisalign in Herriman, UT, and has helped numerous patients improve the health and appearance of their smiles with this extraordinary alternative to braces.
With Invisalign Teen, your child doesn't have to be self-conscious about school photos. There is no need for a mouth guard while playing sports or an instrument, or missing out on having their favorite foods with friends. Teen clear aligners are also comfortable and durable so your child doesn't have to worry about the discomfort of poking and broken wires. In other words, your child can be a teenager – without restraints.
Severe headaches and migraines can interfere with your ability to focus and perform basic tasks. Headaches and migraines can result from biomechanical issues including Temporomandibular Joint Disorder (TMJ or TMD) and orthodontic problems that have gone unaddressed. There are multiple factors that may increase the frequency and severity of headaches and migraines. For severe headaches & TMJ treatment in Herriman, UT, turn to our 5-star rated orthodontists to learn about all your options.
Dr. Dansie is personable, professional, and knowledgeable. His staff is wonderful and kind. They made my daughter's getting braces feel like a celebration with balloons, bubbles from above, and a Creamie treat. His office is gorgeous–so modern and clean! He followed up by phone and email to make sure she was doing okay. Then when we had an emergency, he met us at his office after hours and took care of it! The whole experience has been above and beyond our expectations." – Michelle B.
Dansie Orthodontics goes above and beyond to make their patience feel comfortable and accommodated. My son was nervous about getting his braces, but they quickly put him at ease and even had a celebration for him on the way out. The staff is knowledgable and friendly, and as my son put it, "Their office looks like a nice regular building on the outside, but it's so futuristic on the inside!" It's a beautiful office and my kids look forward to their visits there. Thanks for making something scary into a great experience! – Elsje D.
I am so impressed with Dr. Dansie and his staff. They were beyond helpful and friendly. The office is extremely professional! We had an orthodontic emergency and when our regular orthodontist couldn't see us, Dr. Dansie was more than willing to fit us in and address all our concerns. He took the time to explain everything he was doing and was extremely good with my son. He went above and beyond. We will definitely be seeing Dr. Dansie from now on for all of our orthodontic care. – Kate C.